Thanks, your course is on its way!
Welcome intrepid learner!! I hope you check your email right quick, since we're starting NOW with your first lesson – but first…
WHAT YOU'RE GETTING NEXT
You'll get a daily email over the next week, sharing some of the best tips I have and most useful resources.
Then, you'll get a newsletter about twice a month + an occasional resource or offer related to your interests (or so I try!).
---
Don't wanna wait?
I know you're busy and just trying to solve your money stuff without gross corporate talk. I get you, really.
The funny thing about money is that: the sooner you make it right, the sooner you are less stressed and on your way to the next thing.
If you're ready now, and if you want a video walk-through on a four-number framework that will completely unf*uck your cash flow, check out this 30-minute budgeting class: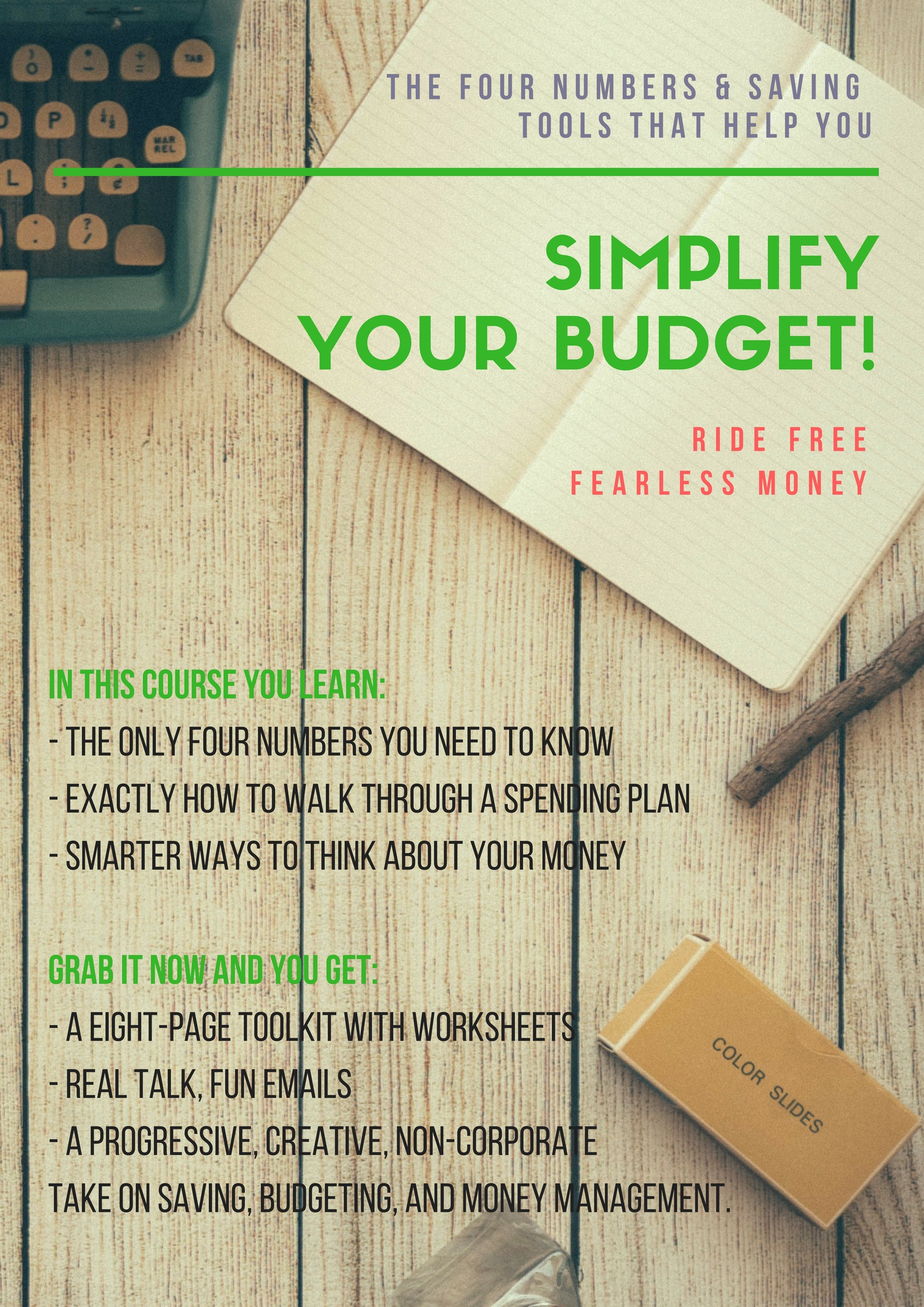 Simplify your Budget mini-class — info here
This immediate-access online course provides a half hour video, written instructions, and worksheets — all genuinely useful tricks, tools, and ways of relating to money you can use.
Stop talking about it and start better-than-budgeting. I got you , click here to start.
---
READ MORE NOW
RESOURCES
I add more resources several times a week and it's one of the most-visited parts of this site. So, check out the copious resources section starting here.
GET SCHOOLED
LIVE CLASSES: Learn live and in community
I give quarterly classes online and live in Brooklyn, so if you're ready to be WILDLY INSPIRED, then check out what classes are upcoming and…
COACHING: Get customized 1:1 help with your specific problems
Want personalized help? Overwhelmed? Struggling to make or execute a plan on your own? Guess what? YOU'RE NORMAL. The system we're in is DESIGNED to seem insurmountable — but, it's not impossible! I work with folks all the time in one-off and month-long sessions to define goals based on YOUR ethics and priorities, make plans YOU can achieve, and stay accountable. You can do it, start here.
FINAL BONUS HOOKUP!! As a special THANKS for grabbing the e-course, check out…
Hacking Debt: Learn What You Need to Get Out of Debt in One Hour
A bite-size video course that will teach you everything you need to know to get out of debt in an hour.
Understanding the interest you're paying,
Deciding which debt to pay
How to find the money & motivation
Usually this course is $27 – but as a thanks to new signups, I'm giving it away to you for only $9.97 — click here to grab this problem-solving, debt-busting class now!