RIDE FREE'S FEES
Most fees are on a sliding scale, and most people fall into the middle of the scale.
Class fees are $29-$59 per class. Up to two no-cost seats are available per class, please contact me well ahead of time to enquire about availability.
Coaching and consultation fees are: $79-$245/session for individuals with $175 being the full fee; $165-$295/session for 2-3 person partners with $245 being the full fee, and $395-595-$795+/session for 4+ person groups, housing collectives, and small organizations with $595 being the full fee.
Custom workshops and facilitation for organizations are negotiated on a per-request basis and I quote based on value and an organizations' budget size.
Online courses are $29 – $169, depending on the length and depth of the course.
Fees & Sliding Scale
What does sliding scale mean? It means you select the cost according to what you think you're able to pay. I know it's not simple, and more than just your current income is involved.
For a class to be sustainable for me to teach, on average I need most attendees to self-select in the medium or full-fee range.
Also, when a few attendees with more resources select high/top, that offsets and supports bottom/low scale attendees (for me). This is a trial, but over the last four years it's been sustainable so far. 🙂
How do I decide where I should land on the scale? Try this guide: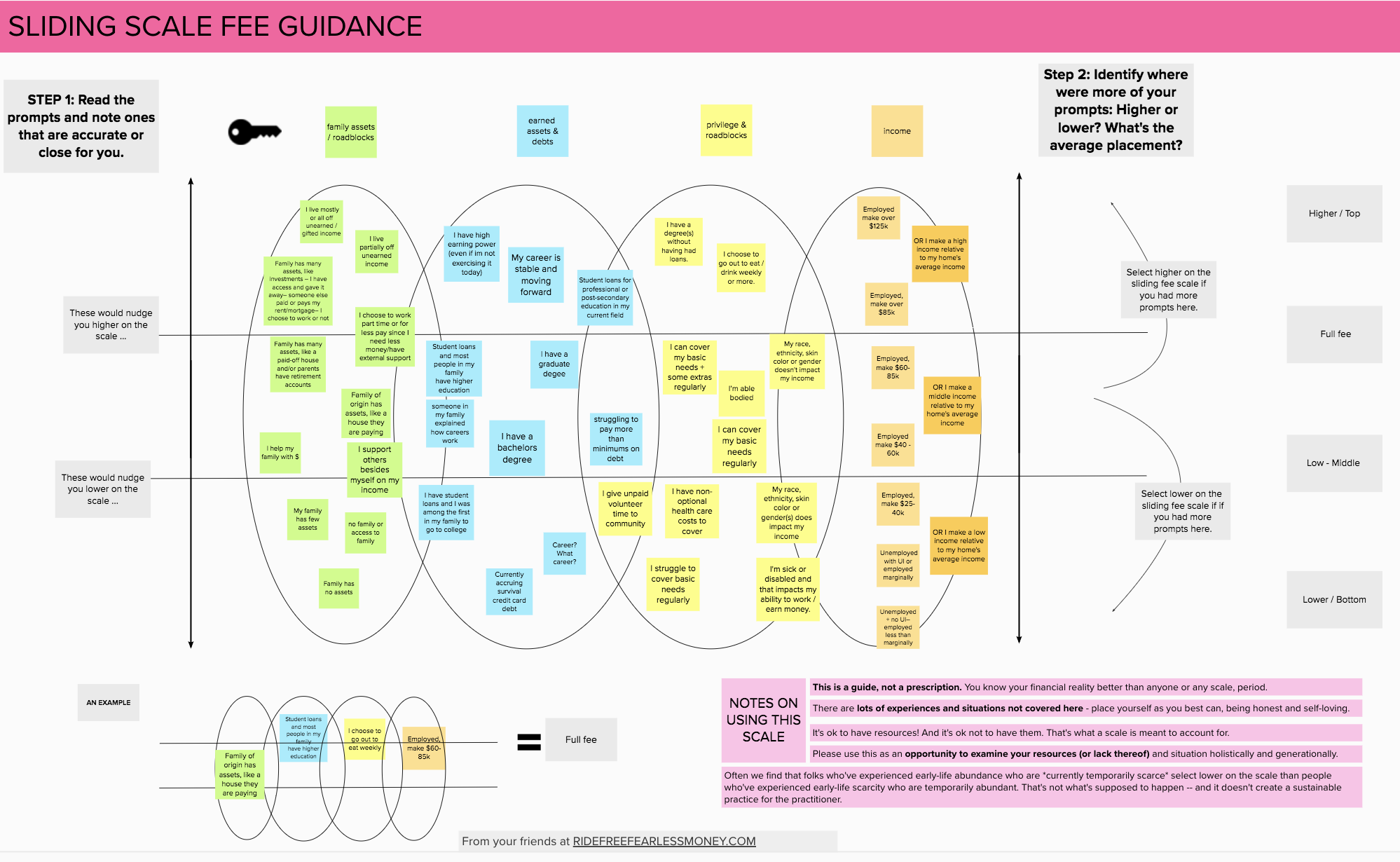 Note: EVERYONE's FINANCIAL REALITY IS COMPLEX. Mine, yours, anyone you can think of. Any guide necessarily oversimplifies things for a purpose: helping you find yourself on a sliding scale. Use the guide as best you can, knowing that you'll need to extrapolate and think through it a bit — which is part of the point 🙂
Do you have scholarships or work-trade?
I offer at least one free and up to two low-cost spaces per class, based on need. I don't do work trade, since lord knows people without resources work extra for everything already. If you're not able to pay and want to attend a class, please reach out via email at least a few days ahead of time.
As donations and registrations support it, I open more no/low-cost seats in a class as I'm able.
*What's an "asset"? An asset is something of value: it can be a house, a paid-off car, an education or degree, savings, etc. Assets that are not yours now but will be yours someday are still your assets in the long game we'll be looking at.