Ready to handle your money like a boss and address your $$$ stress? I've got you taken care of…
For those who are ready to get a grip, Calm That ACK! is a two-hour Crash Course In Dealing with money $$$ & debt — this course teaches you how to unf*ck your budget and freakin' save while you manage lots of priorities.
From punk pep-talk frameworks to loan hacks, a explanation of long term planning and more this class is JAMMED with easy-to-follow mega tricks.
As a matter of fact, we start with the hardest thing first: an exercise designed to help you breathe deep and get your mental space ready to deal. Literally, we will calm your ACK in this class.
This a non-judgmental, positive, welcoming place to bring ANY financial experiences for folks across class backgrounds.
This class is FREAKIN AWESOME and I'm delighted to teach it from a progressive, no-judgement, no-wealth-worship, all real talk and useful tools perspective.
"The last webinar of yours that I took helped me a lot – I went from auto-saving $10 a week to $35 a week, and now I have $1000 in savings!! My all time best so far." — RA, May 2017

"I am so excited about having taken this step, and I'm noticing how much more aware and attentive I am to the money I'm spending every day. This course was a great way to get the support I needed to get my shit together, all in a way that aligns with my values, so thank you thank you thank you!" — T., July 2017
People let me know they pay off their credit cards, set up their first savings accounts and fill them to four-digits, and "magically" find the money to their teeth fixed after! (Trust me, it's not magic, it's motivation.)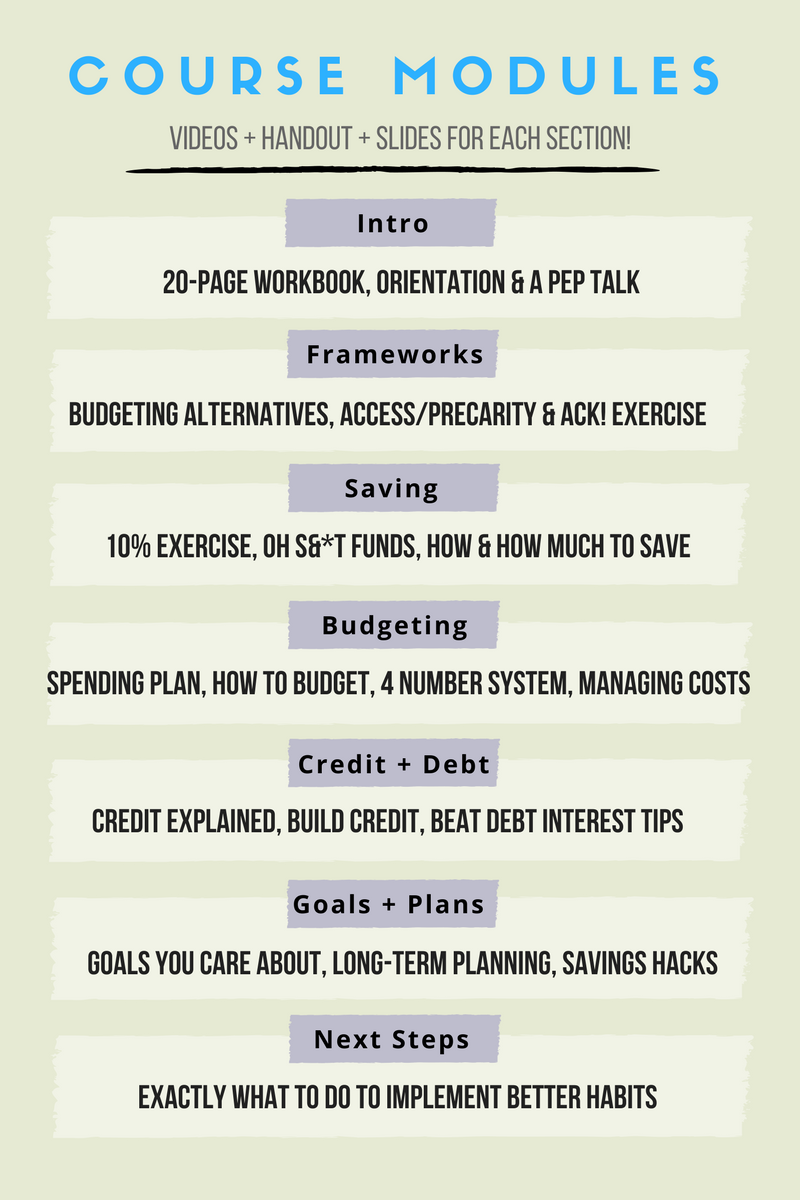 These lessons are sharp, clear, and awesome — but what's about to be more awesome?
Here's what's about to happen with your next sixty bucks otherwise:
You'll go out to dinner – and it's gone.
You'll buy some stuff, and then poof, it's gone.
Here's what happens when you sign up and apply even a fraction of what you learn:
If you apply any of this knowledge and make – or save – an extra $10/mo – that's $120 in your pocket. Class paid for x2.
If you apply any of this knowledge and make – or save – an extra $10/week – that's $520 in your pocket. Class paid x 11.
If you apply any of this knowledge and make – or save – an extra $10/day – that's $3,650 in  your pocket. Class paid x 90.
Get more info at the link below, or sign up directly right here.
100% of participants take two or more positive actions, changing their finances for the better
70% of participants take 5 or more positive actions less than one month after starting!
80% create and start using a budget they can stick with.