Ride Free did a 10-day Divest > Invest Challenge in 2017!
---
Divestment is a big task,

so I'm breaking it down daily into things you can do to transform your interactions with money.

Divestment is about strategically moving resources away from things that you find harmful. Investment is about allocating resources with a gain in mind. This challenge is going to help you do both.

Tune in for daily short live videos or podcasts sharing resources and ways you can invest in yourself, your communities, and your world while participating in divestment. The events will be on fb and my blog, check out the lineup is below. You can get started with a free course on bank divesting, and I'm encouraging folks to take at least three actions over the next 10 days. 

Share your progress with #HackingCapitalism to win free courses, and come along for an educational ride leading up to the release of Money Hacks: 10 Life Hacks and Money Mindset Tricks to Transform Your Finances!
DIVEST > INVEST SHOW SCHEDULE
Pregame – what is divesting, why is First Nations leadership so important, and how can I divest from my bank? Read up here, or watch a 30-minute video + get a free guide here.
Friday Nov 24 – Buying things? Choose wisely, choose local – here's an app to make it easier.
Saturday Nov 25 – Shareholder saturday: Is investing a hack? SRIs, shareholder activism, and IPOs explained. Watch + learn here.
Sunday Nov 26 – Bought too much and can't pay it off? Consumer hangover? Hacking Debt and Credit: check out the video here.
Monday Nov 27 – LIVE on Roots Runners Rhizomes: wellness, self-care, and our intersectional relationship to money. Listen to the interview here, or read an article on money and self-care here.
Tuesday Nov 28 – it's Giving Tuesday; giving can be a radical act, learn more about radical philanthropy and how to be a good donor, and how to give!
Wednesday Nov 29 – Fri Dec 1 — Divesting as a movement. NYC is having a hearing on state fund divestment on 11/29 – get a summary of #divest movement resources and groups and learn the financial approach to institutional divesting.
Saturday Dec 2 – Working for yourself? Approaches to radical small business! If you work for yourself, you pay extra taxes…or do you? Is a small business a hack? Let's learn.
CHALLENGE RULES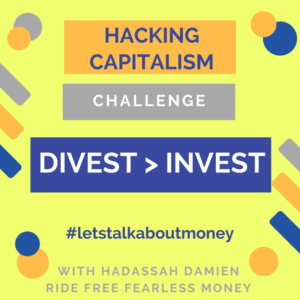 How do I participate?
Anytime between 11/24 – 12/3, do any three or more Divest > Invest actions outlined below. Then, share them on social media (FB, Twitter, Pinterest, your blog) with #hackingcapitalism. Email or DM me links or screenshots to claim your prize!
What can I win?
Along with the awesomeness of doing something positive for yourself and others with your resources, you can also win:
What are the actions I need to take?
At least three of any of these categories will bring you to a win, and there will be resources on how to do these things shared along the way:
Buy something worth at least $20 that's locally made, from a small business, or an independent artisan. Take a photo of the thing with a receipt and try to shout out the maker.
Put money into a local, community, or coop bank by opening a new checking or savings account and putting at least $50 into it. (hide those account numbers when you share your action, kids!)
Donate at least $10 to a grassroots organization or a social movement: any organization with a budget under $500,000/year counts.
Pay down at least 10% of your credit card debt held by a major bank.
Newly invest at least $25 in a socially responsible (SRI) fund, ETF, stock or bond.
Have a conversation you've been meaning to have about money, and share one observation on the outcome. This could be with your partner, roommate, boss, a client… Up to you!
Real talk: Since we're all in late-stage globalized capitalism, there is no "gold star". You probably can find something unethical (to someone) about any given dollar, if you trace it back far enough. We're not doing this work to be "perfect" – there is no perfect. We're doing this work to gain awareness, make mindful choices, and practice doing what IS possible in our individual power.