Social Impact Business Plans and Startup Budgets
If you hope to make a positive social impact with your business idea, startup, or service offering and be financially sustainable, you my friend may too be a social entrepreneur!

You're in the right place to learn how to create a social impact business if you:
Are a values-driven person with a new business idea (or a business you want to uplevel),
Are thinking of creating a project, offering, or startup to address a social issue,
Want to incorporate support for an issue you care about into your work.
In this article we explore social impact entrepreneurship and you'll learn from the startup world how to do three crucial activities that will help you focus in on creating a sustainable business.

SOCIAL IMPACT ENTERPRISE
Social Impact businesses can donate a section of profits like REI or goods like Toms, help get fair trade wages for makers, or be lead by workers like co-ops in the household, tech, and many other industries.

Social entrepreneurship is on the rise, with rising stars lists, networks, programs, and brand-name school certificate programs all on offer. Large companies can now be mission-driven B-Corps, and big businesses are slowly normalizing reporting a "triple bottom line" – on profits, environmental impact, and social impact. Meanwhile small shops, co-ops, and one-person projects have been leading the way for years by combining values with sustainable business practices and innovative ideas.

As a small business or startup, you may be starting a socially-motivated project for the reasons most people do it: you see a problem and you believe you can solve it, if you can be sustained in the process. Not only is social entrepreneurship a huge plus for values-driven innovators, it's also smart to wave your flag from a business (that is, financial) standpoint. Forbes notes, "research shows that many customers choose to buy from the companies whose values they most align with." No wonder the big guys are latching on.

But, launching a startup is NO joke. Take it from someone who's launched several and works with startup founders weekly — this is not for the faint of heart, though it can be done sustainably and without martyrdom. You will experience lows, rejection, and failure and need to take it all as learning experiences in stride. You'll have an idea that you love which doesn't work out and need to come up with a more workable one. You'll need to talk to actual people who you want to give you money, to see if you're on a good track.

And, as a social impact entrepreneur you'll be doing it all with a burning desire in your heart to improve the experiences and environment of people, often all over the world, which is so #worthit.

Below, I share three key things you'll want to do as you're anywhere between toying with a business idea and in the middle of the grind of starting up a social impact business.
First, learn about the problem you're trying to solve and the issues, opportunities and market around it.
Then, map out your business idea including where the money, customers, and impact come from.
Finally create a startup budget to launch with.
From there, you'll be in a great place to get started with your social entrepreneurship project. Get that vision and get your success on – it will help you do even more good!

FIRST, LEARN: CREATE A BUSINESS RESEARCH & TEST PLAN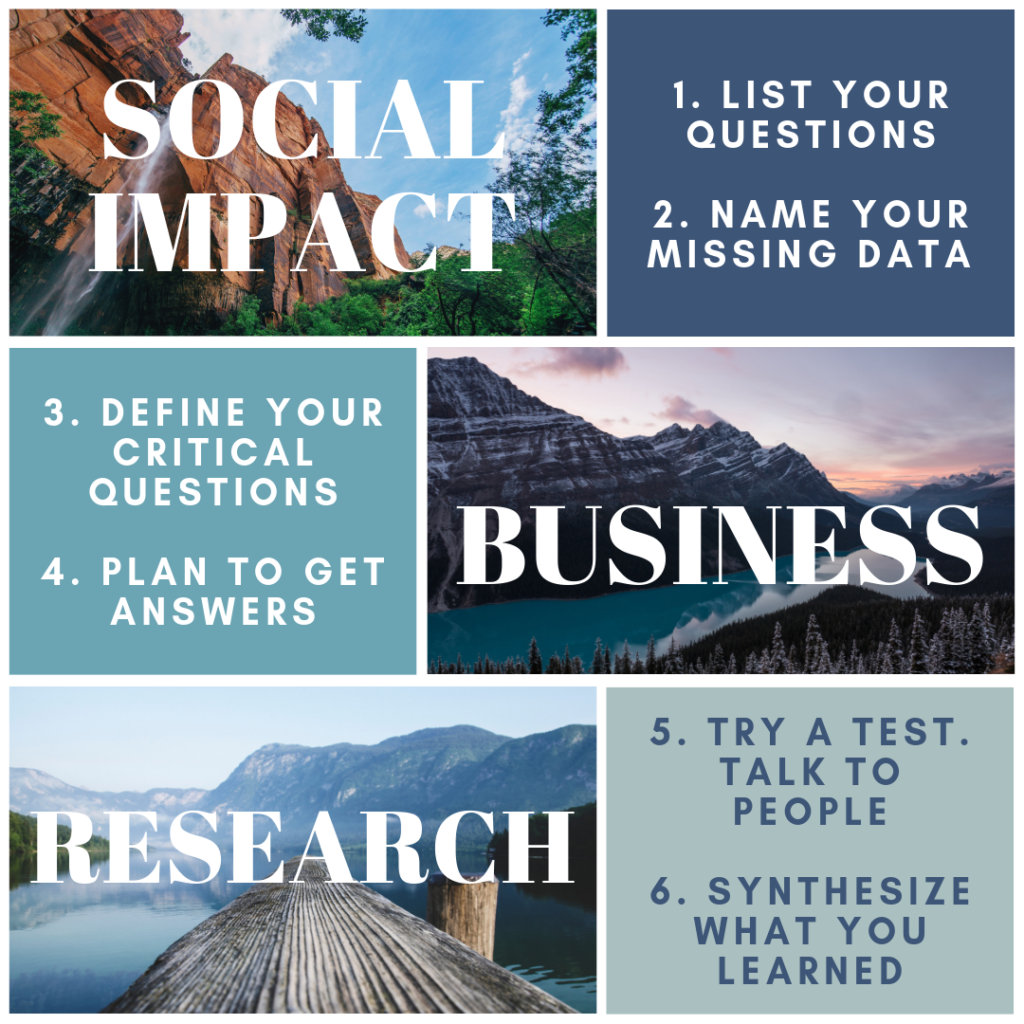 A research and testing plan lays out your key questions, and then helps you decide how you'll use prototypes, experiments, and research to answer them. Sounds basic BUT walking through it methodically will force you to get specific AND get out of your head and into the world where you're hoping to make a positive impact. It's crucial step because, in the words of the great innovators at IDEO, "skipping the steps of getting to know your customer and market causes teams to fail 180% more often." Increase your chances of success: do your homework.

Here's six steps you want to go through to create a Research, Test and Learn Plan:

RESEARCH
What are the questions I have. What are the things I know I don't know. What are the issues surrounding my issue (try a mind map for all of these).
For example, you might be passionate about sustainable fashion and how it saves water and gets people paid better. But, how do you get sustainable fashions to sell? Do you need to be certified? Is there already

What research do I need to do? Is there already someone doing what I'm doing? If so great, what are they doing well and what would I do differently? If not, why is no one doing this (hint: it's probably not because no one has observed the problem you see)?
You might need some market research to see what sustainable fashions sell for, and see if you can talk to one other person who does the work.

From these, what are the critical questions I need to get answered to even think about MY business?
TEST: EXPERIMENT & TALK TO PEOPLE
You have your questions to go answer – excellent.

Now, make a list of 1-3 ways you're going to get those questions answered. This is your testing plan. These could include:

Ask people specific questions related to what you need to learn. One of your tests needs to include "talk to someone" – even if that means a message to a stranger on LinkedIn, you need to get information from someone other than Google to be in business.
Try something in real life – volunteer, see if you can buy something that someone else is selling that you want to get into. You will learn SO MUCH from doing your thing in real life, do not skip this part.
Make and test out giving away a mini free/cheap version of the thing you want to do for a day. Something that takes you less than a day to make, please! Perhaps you want to table at an event, host a one-day webinar – whatever gets you out there with your idea so you see what you like, what works, and crucially what people respond to.
It bears mentioning: at all times please take an ethical approach in your creativity.

Now, go do your test. In your plan, you need to specify who, where, when, and how you'll get out there and get your questions answered. Ideally, it's something you can start and finish within a few days, as you're just getting started. You want this to be achievable – and you can always go back and do more R&D later.

Ask these people the questions. You can go deep, d.school bootleg interview style, or just email over 1-2 questions. Don't forget to take notes on the answers!
Do your volunteering / buying. Don't forget to take notes on your experiences!
Make your mini version (something you can make in one day or less) and test sharing it with the world. Don't forget to take notes on your feedback!
LEARN
Take a few hours with your notes, reflect on your experiences, and return to your key questions from #3. Write out answers, or note if you didn't get the answers and still need to learn more. Look for surprising things you learned, patterns, or things you heard that seem to challenge or relate to your idea. What will you change, what will you not do that you were considering, and what will you definitely try now that you have more information.
Once you have some answers and experiental data, you have some additional perspective and ideas to bring into your next phase: organizing your business ideas and hopes into the beginning of plan.

DRAFT A BUSINESS MODEL

A business model is a standard tool for taking a snapshot of how your business will function. They are a early step towards creating a whole business plan because they force you to be succinct, clear, and think about the business as a whole system of ins and outs.

To start, use a one-page Business Model Canvas – the classic version has been updated to a Social Business Model Canvas to make it all the more useful for a social entrepreneur:
What's this canvas thing?
It's a visual aid that you, and whoever else is on the project with you, should fill out together to get CRYSTAL CLEAR on your: problem you are working on, what you're doing about it, for who, how, to what effect, at what cost and with what money.

While planning your business, the canvas is invaluable because it makes you step through KEY issues. If you are in the middle of a social impact project it is still immensely useful as it makes you pause and ask if you're pointing a) in the right direction b) in a sustainable way.

I'll be blunt: You need to be clear on all of the prompts in the canvas for your business to succeed sustainably, no matter the size. You don't have to lock into a plan as written, but you have to be able to say how it all fits together. If you can't, say, define how you'll make money you might have an awesome volunteer project, and not a business. If you can't define the impacts you might just have a business. Both of these are fine, but you're better off knowing them ahead of time – right? Also if you're trying to get a funder, client, or partnership going and you can't answer these, you're likely to be sent away.

Below are two more Social Impact Business Canvases, choose one of the three linked here (whichever makes the most sense to your business) and take a few hours to fill it in. Carefully note the areas you don't have answers to –

Cite – MySBM.org
BUDGET THAT BIZ

Finally, after you've experimented and learned, and put order to your thoughts with a filled out Social Business Model Canvas, you'll be ready for the final step: a business BUDGET.

Cue scary music and you trapped at a laptop until next July.

Just kidding, it's just a few lines in a spreadsheet – you're making it up if it's a startup! And you're pulling from data you already have if you've been running your business for a few months! This is not hard, though you will have to apply your butt to your chair, in the words of my former art teacher, to get it done.

As you walk through making your budget, take information from your business model and learnings from your tests to inform what you think will go into getting your idea off the ground (startup) and keeping it going (sustainability).
EXAMPLE BUDGETS

Business Operations Budget
Start-Up Budget
Project Budget (includes grants)
The hardest part of making a business budget, especially a new one, is forecasting income. From your research, tests, and questions you should already have SOME idea, however vague, on where money will come from and how. Product sales? Consulting? Event attendance?

If your goal is social impact, especially if it's economic: donating to orgs or people, paying fair wages, being sustainable on a 30-hour work week – you owe it to the business and the impact to have a revenue plan.

If your business is creative, I've added some resources at the end of the article for you to consider your pricing and economic strategies as a maker.

Finally, use your budget a tool to ask questions like:
Where will the money / time come from?
Should I keep my dayjob and side hustle this until I can earn a certain amount of money with it? How much?
PLAN YOUR IMPACT, PLAN YOUR BIZ

Finally this whole process is something you can do in about a week if you focus in hard – I work with teams regularly who set aside a week and walk through this process to come out with a plan, and individuals who are side hustling can do it over 1-2 months of one weekend day working.

The point, people, is to set yourself up to succeed. To fail early if you're going to fail. To get out into the real world and see if your hunch is right. You don't have to do this alone, and you don't have to dive into eighty-five pages of spreadsheets (yet) to have a business.
Resources for Social Impact Entrepreneurs:
Impact Investing: Measurement and Business Outcome, Stanford

Resources for business owner artists & creatives:

Freelance pricing ethical guidelines:

Life as an artist workbook: http://www.artistsu.org/making#.XKd02yhKg2w
NYFA "the profitable artist" https://www.nyfa.org/Content/Show/The-Profitable-Artist