Options for small business owners and freelancers
Custom Support Program // One-off Strategy Session // Online Learning
---
I LOVE supporting others in implementing systems, finding strategic growth, and sustainability of your work.
More important: as a design-driven business coach and longtime strategic consultant, I understand the complexity you're facing, and I can help you make informed decisions.
You may be trying to:
Create new, functional systems to manage the money in your business, or
Map out and test a path to financial sustainability and growth in your work, or
Create transparent, equity-driven policies and plans for your organization, or
Devise programs or budgets that intersect business with social impact
Decide between conflicting priorities with your limited time
If you want to work on any of the above while gaining critical financial literacy skills you'll take into your personal life, then consider a four-session coaching program to get you to real results.
In my experience, us leaders have complex issues we seek to solve.
To create a system, identify and implement a change, or solve a multi-faceted issue, you need to give yourself time to discover, identify solutions, test and implement, and review for progress.
In a program, I'll partner with you to problem slay in a customized four-session series designed for entrepreneurs, small business owners, department leads, executives, and freelancers who's success is biting at your heels.
---
I've run six small businesses over the last 15 years. Before that, I worked for small business owners. I was raised by a small business owner – I love being an entrepreneur, and no matter what other ways I work, I will always run projects (Like this one!)
Effective systems for money, budgets, and projections are what I can help you with. 
Strategic coaching is designed to help you spend as much time as possible DOING your work — whether it's leading a team, planning to fundraise, or creating your services or products.
---
*CUSTOM SUPPORT PROGRAMS: for entrepreneurs, business owners, and organization staff *
Have you been running your business or department for a few years and gotten financial traction, but realize you need support to take it to the next level? Perhaps you need to revise your systems, figure out how to make a new business model financially sustainable, or separate personal and business finances? You'll need a few sessions to identify, create, and test your solutions.
Are you part of an organization and seeking to create a budget, business model scaling plan or make a transition plan? We can work together to identify, prioritize, and create meaningful financial strategies you can take to your Board, staff, membership, or team.
L3 = $1175 – Choose this if you are:
* an individual making over $150k 
* running a solo or small biz and your revenue is over $300k
* if your organization / department budget is over $2M
L2 = $995 – Choose this if you are:
* an individual making $80-150k (or more but with very high personal costs due to generational poverty)
* part of an organization with a budget of $500k-$2M
* or starting a biz and your revenue is $100-$200k
L1 = $695 – Choose this if you are:
* an individual making under $80k (or more but with very high personal costs due to generational poverty)
* part of an organization serving community with a budget under $500k
* or starting a biz and your revenue is under $100k
****************************************************
*ONE-OFF DEEP DIVE STRATEGY & DISCOVERY SESSIONS

*

In a one-off session, you can address one or two specific issues: financial systems, pricing, revenue/income projections, budget review, etc. Choose a discovery session if want to work on a specific issue, or if you aren't sure if ongoing support is right for you. 

1:1 Customized 90-minute  Coaching Sessions (for 1 person):
Schedule an individual Business Coaching Appointment

1:1 Customized two-hour Coaching Sessions (for 2-3 people, business partners, etc.):
Schedule a Business Partners Appointment

 
---
Pricing for sustainability means defining the financial side of business models that will get you paid enough and let you make values-aligned choices — without feeling gross!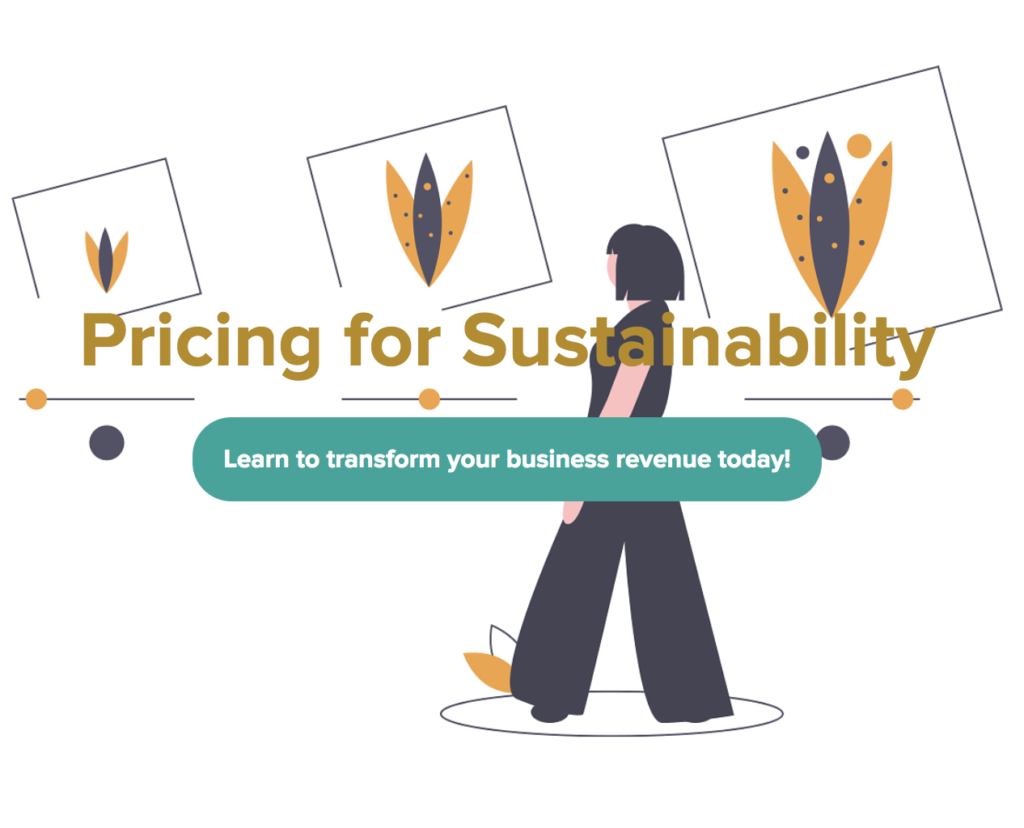 Envision and name your minimum, medium, and maximal income you hope to get from your work
Reality test, creating a snapshot of now
Go through a generative process where you organize the work you do — and learn your average hourly rate
Imagine how you want to impact your business revenue and the world by ideating a few new strategies and pricing levels
Revise your business pricing or offerings and make an implementation plan
Finally, you'll return to your envisioned income and check if your new plan moves the needle for you towards where you want your income to go
Plus, you'll get stories, data about what others charge, ideas to integrate justice-focused approaches, and new ways to think about earning money for a more sustainable life. Revise your pricing and revitalize your business today — start here.
---
*ONLINE LEARNING: FEARLESS FREELANCE*
Fearless Freelancer — 2.5 hour self-guided online course, $189
Fearless Freelancer & Small Business is a workshop for anyone who makes money that doesn't come in neatly on a W2 — whether it's your full time, gig, or side hustle.
Gig economy workers, coaches, therapists, bartenders, nannies, artists, Etsy sellers… small biz owners you know who you are, and how your money is flying around.
If you don't know how to track your business money, how much you REALLY make, or how to make that money work well for YOU, this course is going to help. You'll learn:
Four steps to legitimize your solo business, and that business income!
How to professionally handle receipts, plan for tax write-offs, and understand the illustrious Schedule-C ta reporting form.
NEW! A step-by-step process to decide exactly how much to charge so you can earn what you want to
Multiple tools and practices for income tracking: including an income calculator spreadsheet template so you know how much money to plan for taxes, and how much you can pay yourself.
Why and when to set up a business EIN, bank account, & smart business structure
For those times when your business plans to pay taxes game doesn't feel as fresh as you are? Yeeeah. We'll lay out three clear ways to plan ahead for taxes
---
Identify your key numbers with this calculator!
---
FAQ
What can we work on?
With my small business clients, we often work on things like:
Running numbers so you (finally!) understand how much money your biz is putting in your wallet.
Devising and setting up structures to help you see how you can make more money in my business?
Crunch numbers so you can estimate your costs and prepare for your tax burden
Ongoing support during biz transformations or launches
Setp-by-step support in getting your infrastructure together federally, banking, retirement, etc.
When and how will we meet?
Sessions are available: Mon – Thurs 6:30p EST – 10:30p EST, and Sundays 2p EST – 11p EST. You'll choose the time that works best for you when you book.
Our meeting can be done in person in Brooklyn, NY or via a Zoom video call.
After or when you book your first appointment, you'll be invited to fill out a coaching intake form. From the info in that, you'll be given optional customized prep work for the appointment. I recommend booking an intake at least a week out so you have time to do any prep work and ruminate on the work beforehand.
What happens at an appointment? What's the approach?
My coaching practice is informed by agile design, a trauma-informed approach and consists of strategic, laser-sharp, compassionate financial education customized to you.
Based on what you stated you want to focus on, I use an agile approach to identify and prioritize the most valuable problems to solve, and we focus in on those. As we go "down the list" of what you want to work on, we'll spend a little less time on each thing. Expect to leave with a customized resource list and action steps document, and a set up spending, savings, or debt plan. Oh, AND with lots of ideas, excitement, and hopefulness. ?
---
When is this not a great pick for me?
Are you trying to start a C-Corp – a business that you hope to sell to shareholders someday? While I can support you at a high level, me and everyone else is going to send you to a lawyer for the heavy lift.
Do you need someone to actually do your taxes? Then you need an accountant or a tax preparer. I can tell you exactly how to manage your money so when you get there the taxes part is less painful/annoying/confusing – but I don't give tax advice or do taxes.
Are there four or more of you? Are you trying to do something relatively complex like build a mutual agreement on cost-sharing for a compound you're buying or a cooperative business buy-in/sweat equity model? Are you actually looking to get an educational workshop together for multiple members of your group? For larger group work that you think will need more than two hours to be effective, check out the Intensive Co-creation group workshop plan.