"HOLD UP" I hear some of you saying "I THOUGHT WE WERE HACKING CAPITALISM AND NOW YOU'RE TELLING ME TO INVEST IN THE EVIL MARKET WTF??"
Yup. Here's two reasons:
Inflation. I want you to have enough pizza when you're old.

Money talks — and you can choose to invest in businesses you respect and NOT in ones you think are messing up the planet or harming humans.
Essentially you can reward businesses you believe in and have a hope in hell of retiring.
Any time you buy an investment, you're essentially loaning money to that company or country, or in the case of a mutual fund or ETF, all the companies in the fund. So, loan your money where you think good things are happening.
Well DANG how do I know what companies are in these things, so I can pick wisely?
Two tricks for you:
Look for Socially Responsible Investments and funds (SRI), and

learn about SRI

. Amy Domini is a fund manager who co-created the idea of social investing,

here's a neat article about her

theory of social investing.

Research the holdings of any fund before you buy. There's one website I want you to be familiar with if you're going to buy stocks, mutual funds, or ETFs. Learning how to use it means you'll know where your money is invested.
That is the focus of the rest of this segment: the website I want you to know about, Morningstar.
Morningstar is the research librarian of investments, and you should go make friends with her.
To learn what's in your fund, there are three steps:
Google the name of the fund and get the "ticker", a 5-character short name, in the example here CSFIX. 

Also, google turns up a nice quick graphic with basic fund info. +Bonus knowing the ticker means the scrolling finance report bars on news sites start to make sense…


Go to Morningstar.com and put the ticker in the search bar.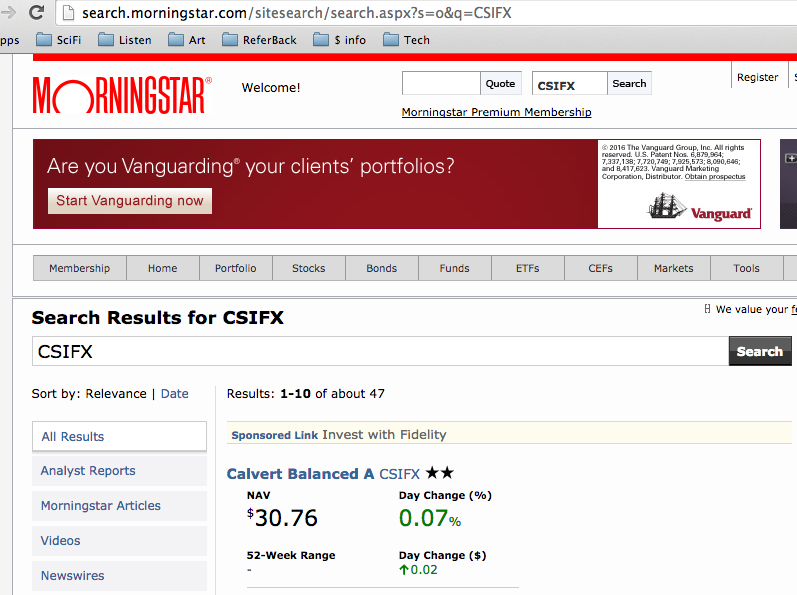 You can also just put the whole name of the fund, no ticker, in the search bar, you'll just have to click around a bit more to get the results.
Read the information on the page that comes up after.
The first page you get gives lots of snapshots about the fund, just scroll down to see it all: a quote, their "growth of 10K" window to show return over time, and if you scroll down, it will list out the top five "holdings" (stocks in the fund) and give you a peek into what the fund is doing.

If you want to know EVERYTHING in a fund? Click on Portfolio → Holdings, you'll get a page listing everything in the fund. Just scroll down for the info. Example holdings page top:

And after I scroll: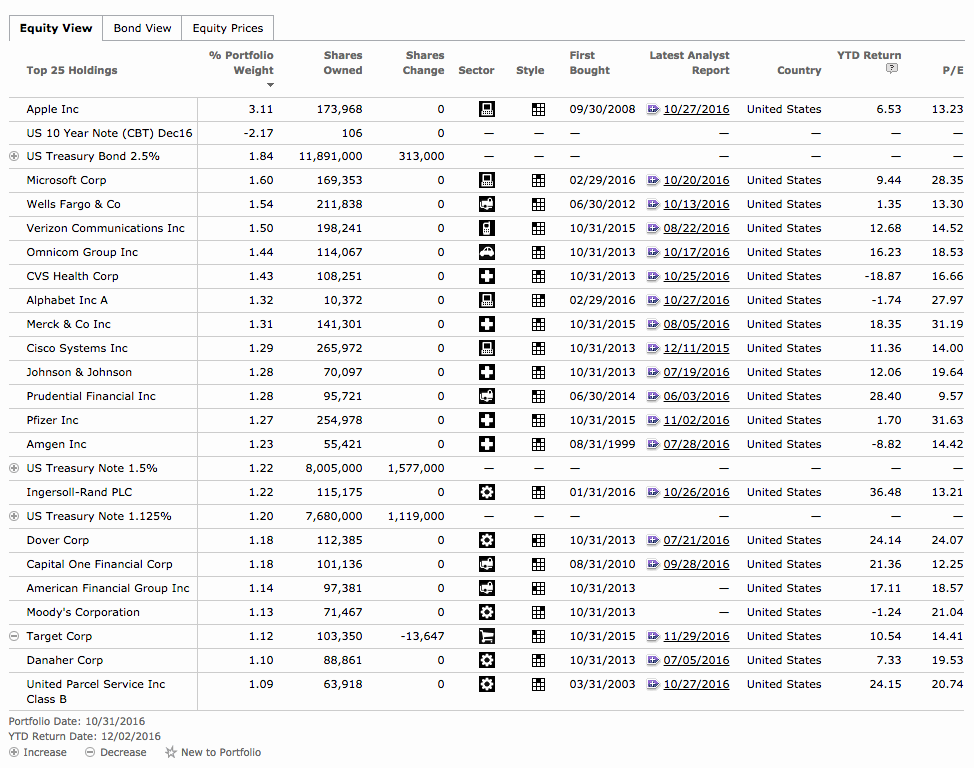 Now, you are also welcome to deeply research each fund you wish to purchase from their company's website — they will all have a list of their holdings and past performance online. Some SRI funds give cool annual reports on their social engagement, I enjoyed this one on Domini's work to encourage the fair labor practices of funds they invest in.  But, if you're going to learn ONE website to do this work? Make it Morningstar.
If you enjoyed this, check out the whole post series on Hacking Capitalism.